Tux Rentals Made Easy
Our tuxedos and suits are available for rent or purchase. Tuxedos are available for any special event, including weddings, prom, and homecoming. With a variety of options, you're able to choose a complete suit or opt for certain pieces.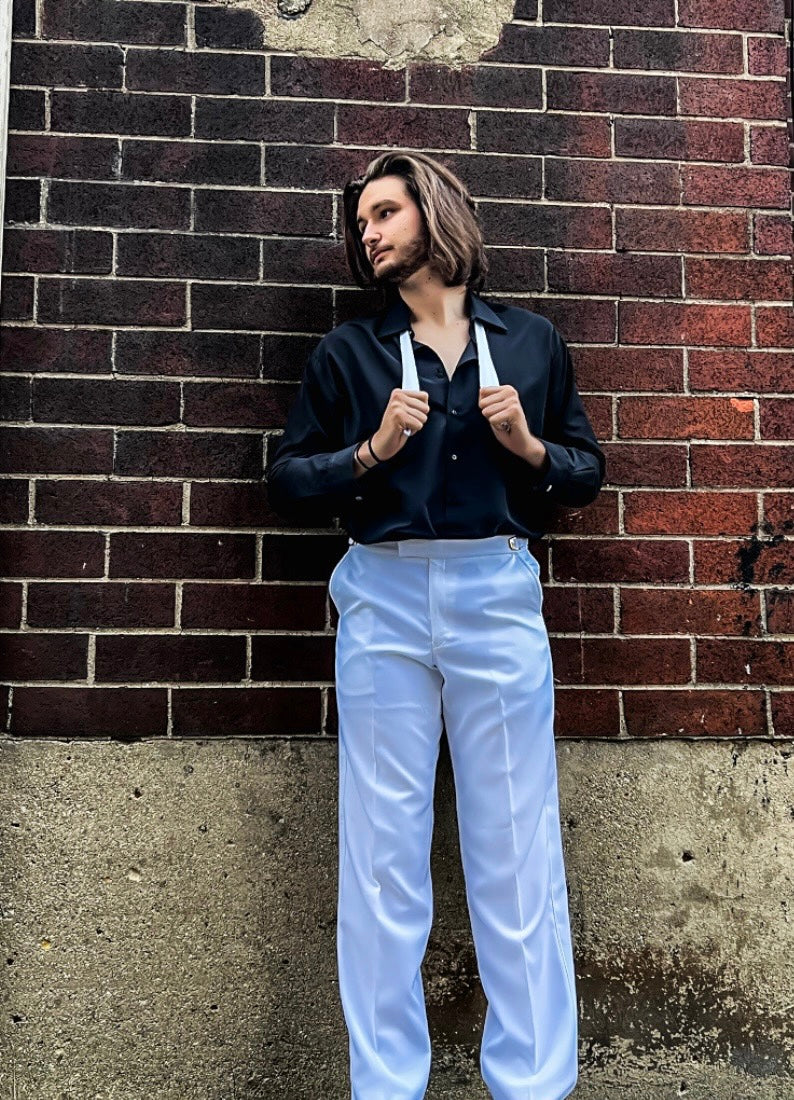 Personalize Your Look
When you shop with us, you don't have to buy the whole set. Choose what you need for your wedding day or event.
Variety of High-End Designers
Shoe Rentals
Complimentary Color-Matching
Tailored Hem-Length
Tuxedo FAQ's
Q: How does the tuxedo rental process work?
A: To rent a tuxedo, you can visit our store to choose the style and fit that suits you. Once you've made your selection, provide your event details including any color swatches, date(s) of rental, and any photo inspirations. We provide measurements! We'll prepare the tuxedo for you to pick up or deliver it to your specified location.

Q: How do I choose the right tuxedo for my event?
A: Our experienced staff can assist you in choosing the perfect tuxedo based on your event type, formality, color preferences, and personal style. We'll guide you through various options to ensure you look your best for any occasion.

Q: How far in advance should I rent a tuxedo?
A: It's recommended to rent a tuxedo at least 2-4 weeks before your event. This allows us to ensure availability, provide proper fittings, and make any necessary adjustments to guarantee a perfect fit. For prom and summer weddings orders, we suggest ordering ASAP to reserve your tuxedo rental. Styles run out quickly during these busy months.

Q: Can I make last-minute tuxedo rentals?
A: While we strive to accommodate last-minute rentals, it's always best to plan ahead to ensure availability and proper fitting. Contact us as soon as possible, and we'll do our best to meet your needs.

Q: What is included in a standard tuxedo rental package?
A: A standard tuxedo rental typically includes the jacket, trousers, shirt, tie, vest or cummerbund, and cufflinks. Shoes and other accessories may be available at an additional cost.

Q: How do I get measured for a tuxedo?
A: Visit our store, and our staff will take your measurements to ensure the tuxedo fits you perfectly. If you received your measurements elsewhere and can't make it in person, we can still use those to order your tux!

Q: What if the rented tuxedo doesn't fit properly?
A: We call all customers as soon as your tuxedo arrives. We advise customers to come in and do an initial fitting. If the tuxedo doesn't fit properly, we'll work to resolve the issue by offering alterations or providing a replacement to ensure you have a comfortable and well-fitting tuxedo for your event.

Q: What is the rental duration for a tuxedo?
A: The typical rental duration is for 3-5 days, allowing you to pick up the tuxedo a day or two before your event and return it the day after. Additional rental days can be arranged for an extra fee.

Q: How do I return the rented tuxedo?
A: Return the tuxedo to our store on the agreed-upon date. Make sure to return all rental items in the same condition they were received. Late returns may incur additional charges.

Q: What are the payment and deposit requirements for tuxedo rentals?
A: Payments and deposit requirements vary based on the rental package and our store policies. Typically, a deposit is required at the time of reservation, and the remaining balance is due upon rental pick-up. We accept various forms of payment, including credit/debit cards and cash.